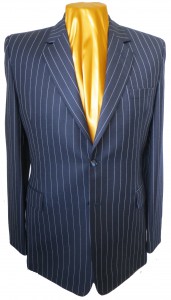 Barney Goodman has a long established reputation for quality British gentlemen's tailoring.  Our outstanding service includes the cutting and styling of all garments in our workroom.  We only employ the traditional methods of tailoring.  Methods which, in our opinion, remain unsurpassed in creating British tailoring of distinction.
For appearance and durability we favour a slightly heavier material than that typically used in ready-to-wear and our jackets are fully canvassed.  Our main suppliers are long established West Yorkshire wool merchants.
We visit clients for all appointments.  We believe that the one-to-one situation provided by a visit to either home or office provides the ideal environment for our bespoke service.